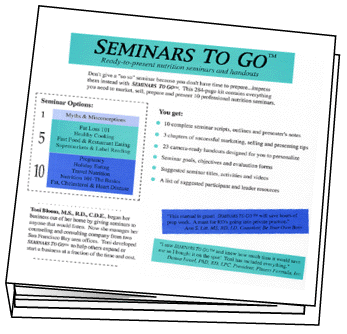 Don't give a so-so seminar because you don't have time to prepare...impress them instead with SEMINARS TO GO (TM). This 284 page kit contains everything you need to market, sell, prepare and present 10 professional nutrition seminars.

You get:

10 complete seminar scripts, outlines and presenter's notes
3 chapters of successful marketing, selling and presenting tips
23 camera-ready handouts designed for you to personalize
Seminar goals, objectives and evaluation forms
Suggested seminar titles, activities and videos
A list of suggested participant and leader resources

SEMINAR OPTIONS

Myths & Misconceptions
Fat Loss 101
Healthy Cooking
Fast Food & Restaurant Eating
Supermarkets & Label Reading
Pregnancy
Holiday Eating
Travel Nutrition
Nutrition 101 - The Basics
Fat, Cholesterol & Heart Disease
"This manual is great! SEMINARS TO GO will save hours of prep work. A must for RD's going into private practice."
-Ann S. Litt, MS, RD, LD, Coauthor, Be Your Own Boss